ANNOUNCEMENTS
Aaron's new novel, Long Live the Suicide King, coming in spring 2014!
Here's a little about the book:
Long Live the Suicide King is 55K word contemporary YA novel set to drop on April 3, 2014 through Courtney Literary
Seventeen-year-old Jim "JD" Dillinger knows exactly how his miserable suburban life is going to play out. At least drugs added a little chaos to his life, but after almost losing his soul, JD knows he has to quit. Now clean, he figures he has another sixty years of boring life followed by a meaningless death. JD decides to pre-empt God by killing himself. However, once he decides to die, his life gets better, more interesting, and then downright strange. New friends, a possible romance, and donuts, lots of donuts.
Once the end is in sight, every minute becomes precious.
And here's a quick peak at the working cover for the Advanced Reader Copy!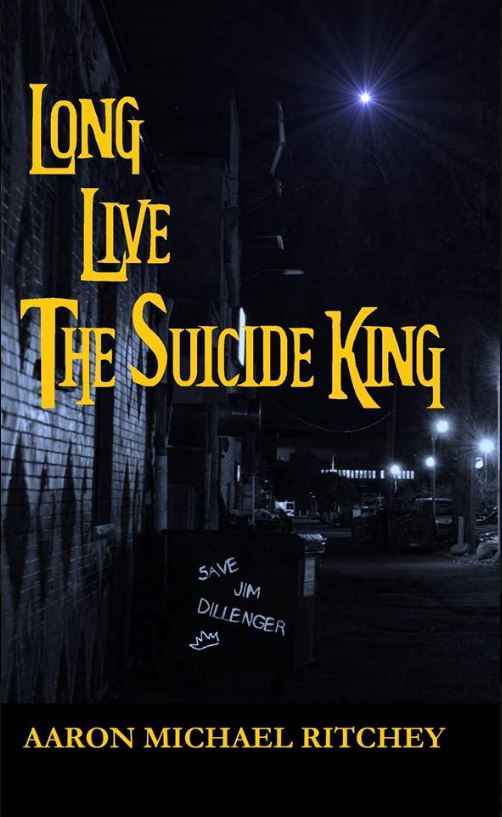 Check out the premiere issue of Fictionvale, a new e-zine for short stories, launching Friday, November 15th. Details here!  A short story by Aaron will appear in the second issue, check back for details.
Aaron's short story The Dirges of Percival Lewand is available now in the steampunk-horror anthology Penny Dread Tales Volume Three: In Darkness Clockwork Shine. On sale now! More details here.
_______________________________________________________________________________
Torn between her love for an Angel and a Demon, Lena thinks she knows the difference between Heaven's Fury and Hell's Desire. She never had a prayer…
Available NOW from Crescent Moon Press! Buy it on Amazon.com, Barnes and Noble, IndieBound, or from your favorite local retailer!
Blown in on the winds of a storm, two mysterious boys show up in Avalon, Colorado: one wants to save Lena, the other will try to destroy her.
Fiercely independent, Lena doesn't think she needs saving. And she has already been destroyed. After her parents are killed, she alone must take care of her little brother and her mentally ill aunt. She does this the only way she knows how–by living a life of crime and desperation.
Drawn into a hellish game of love and lust, Lena will have to walk the shadowy line between demon and angel, and in the end, the fate of her family and her soul will rest on the impossible decision she alone must make.
Filled with dark tension, yet transcendent with fragile hope, The Never Prayer is a page-turning thriller that will keep you guessing until its final, heart-breaking pages.
Praise for The Never Prayer:
This book was full of wonderful writing and the story was amazing! I loved this
one! I recommend The Never Prayer to anyone who likes paranormal or even dark gritty YA contemporary romance.
–YABOUND Review
Beautiful writing and a story of courage, hope, and unselfish love mark this as a not-to-be-missed debut from an exceptionally gifted new talent. I look forward to more
from Aaron Ritchey.
–Jeanne C. Stein, bestselling author of the Anna Strong chronicles
An engrossing supernatural smackdown between good and evil.
– Mario Acevedo, bestselling author of the Felix Gomez Vampire series