Hello, World!
I will be at
The Myths and Legends Convention
in Denver, Colorado
on
August 12-14, 2016
Click here for my schedule of panels!
* * *
Aaron Michael Ritchey's first EPIC series is now available!
It is time for the silent to speak.
It is time for the meek to inherit the earth.
It is time for unexpected heroes to rise.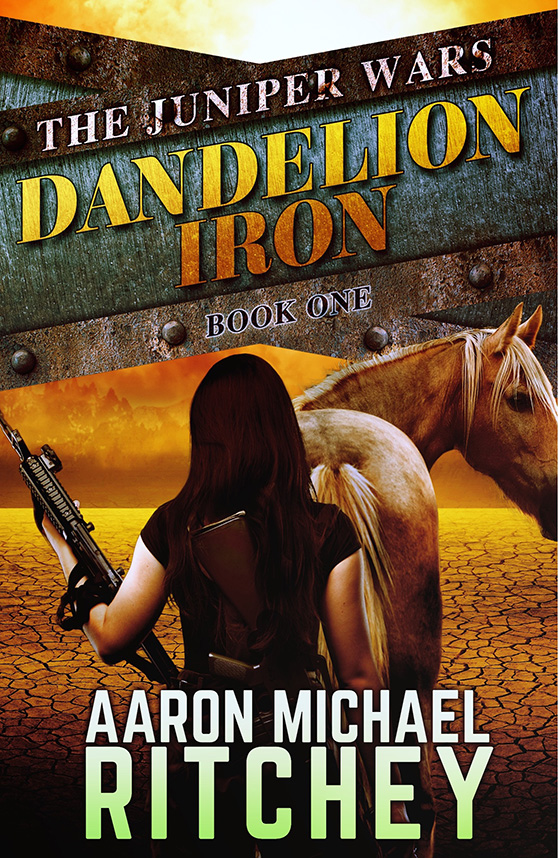 It is the year 2058.
The Sino-American War has decimated several generations of men, and the Sterility Epidemic has caused 90% of the surviving males to be sterile.
Electricity does not function in five western states—Colorado, New Mexico, Utah, Wyoming, and Montana are now territories once again. Collectively, they are known as the Juniper. It is the most dangerous place on Earth.
Welcome to the world of The Juniper Wars.
On a desperate post-apocalyptic cattle drive to save their family ranch, Cavatica Weller and her two older sisters stumble across a rare boy. Sharlotte wants to send him away, Wren, the middle gunslinging sister, wants to sell him, and Cavatica falls in love with him.
Little do they know that an inhuman army is searching for the boy and will stop at nothing to find him.
Order Now!
Dandelion Iron (The Juniper Wars Book 1) – Amazon
Dandelion Iron (The Juniper Wars Book 1) – Barnes & Noble
Dandelion Iron (The Juniper Wars Book 1) – Kobo