Finding lost treasure?
Escaping to France?
Falling in love?
Yes!  Do the impossible!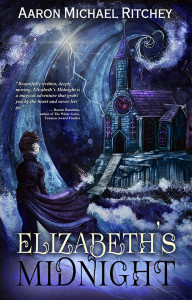 Advanced Praise for Elizabeth's Midnight
"Beautifully written, deeply moving, Elizabeth's Midnight is a magical adventure that grabs you by the heart and never lets go."
— Bonnie Ramthun, author of The White Gates, a Truman Award Finalist
"Elizabeth's Midnight is not just a coming of age but a story of romance and adventure. Elizabeth is an ordinary girl so warped by bullying and obscurity she's lost not only her identity but her dreams as well. Her journey to France with her grandmother, beautifully told by a talented new voice, details a young woman coming into her own and learning that even a Bethie can be an Elizabeth."
—HK Savage, bestselling author of Empath
Order on Amazon or Barnes & Noble
Quickly.
Quietly.
Or Mother Meyers will hear.
Sixteen-year-old Beth Meyers creeps through her days, terrified of her domineering mother and viciously pretty sisters. Beth's only comfort is reading to her catatonic grandmother.
Then the impossible happens. Grandma May awakens, desperate to get to France by midnight on Halloween, only five days away. Someone named Phillip will be there waiting, someone she knew when she fought the Nazis during World War II.
But is Grandma May telling the truth?
For the first time in her life, Beth will defy her mother and sneak her grandmother out of the nursing home and across the Atlantic.  There she will find answers, romance, and a world she never dreamed could possibly exist.
 Elizabeth's Midnight fact sheet:
Young Adult
Black Arrow Publishing (Feb 2015)
ISBN-Print: 978-0-9861845-0-5
ISBN-E:  978-0-9861845-1-2