A new novel in The Juniper Wars Series is going to be released every four to six months but waiting for that next book might be rough.
To bridge the gap, I have invited other writers to write short stories in the world of The Juniper Wars, and I'm excited to share their work with you. I'll be making them available to my newsletter subscribers and anyone interested in the series.
Here are the The Juniper Tales  Project stories. The link will drop you down to the main section.
"The Leash" by Ian Thomas Healy
"Last Command" by Kevin Ikenberry
"Ezekiel 37:23" by Mario Acevedo
"Blood in the Snow" by Travis Heermann
"Guardian Angel" by Quincy J. Allen
*********************************************************************************************
Click here for Boom Town by Eytan Kollin (a zip file containing the *.mobi, *.epub, and *.PDF)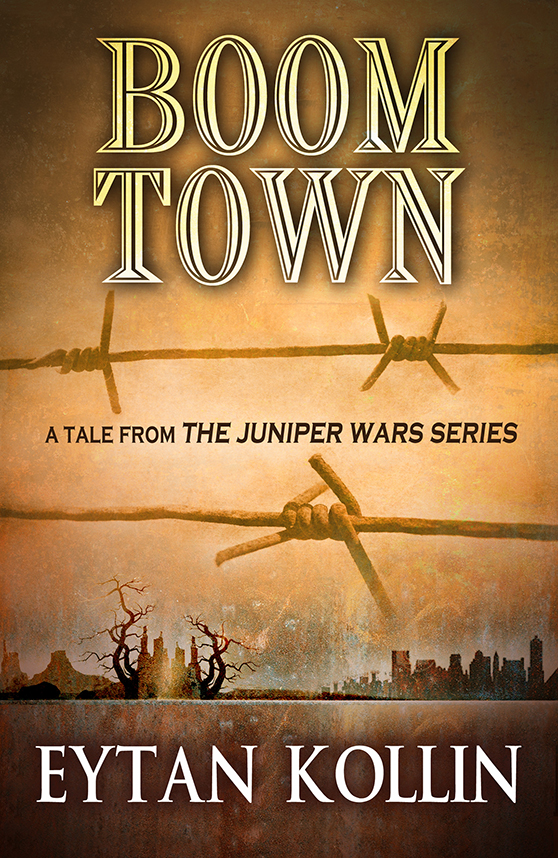 What happens to Mount Rushmore after half of South Dakota falls off the map? Can an entrepreneur, an outlaw, and a gay First Nation sheriff remain free when the U.S. bureaucrats come calling?
Eytan Kollin has crafted a tale which captures the true spirit of the Juniper and introduces some of the greatest characters ever to step foot on free South Dakota soil.
Eytan is a teacher of history, government and economics currently living in Los Angeles, California. His hobbies include historical reenactments, chess, and battle recreation with historical melee weapons. He is the co-author of the award-winning TheUnincorporated Man trilogy and an anthology of short stories coming soon from WordFire Press. Eytan is currently working on his first solo novel, Benjamin Franklin: Wizard for Hire, coming soon from Baen Books.
Contact Eytan at eytan@theunincorporated.com or visit his website at www.theunincorporated.com.
*********************************************************************************************
Click here for The Leash by Ian Thomas Healy (a zip file containing the *.mobi, *.epub, and *.PDF)
A young boy dreams of adventure away from the dreariness of ranch life. But in the Juniper, such dreams have a dangerous way of coming true. Especially when sky pirates are involved.
Ian Thomas Healy has written a steampunk adventure and set it firmly in the world of The Juniper Wars where classic zeppelin battles have a gritty Mad Max edge.
Ian Thomas Healy is a prolific writer who dabbles in many different speculative genres. He's an eleven-time participant and winner of National Novel Writing Month. His original superhero fiction series, the Just Cause Universe, is popular and always expanding, with the ninth book due in spring of 2016. He is also the creator of the Writing Better Action Through Cinematic Techniques workshop, which helps writers to improve their action scenes.
You can find Ian on Twitter as @ianthealy and on Facebook as Author Ian Thomas Healy. He has a website here and he founded Local Hero Press in 2011 for all your superhero story needs. Click here to be taken away!
*********************************************************************************************
Click here for Last Command by Kevin Ikenberry (a zip file containing the *.mobi, *.epub, and *.PDF)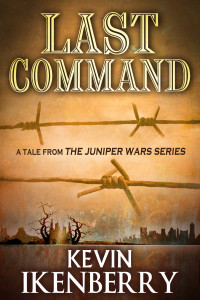 A single missile tracks towards the western United States. In an underground bunker in Wyoming, Colonel Mark Devane and his crew are the final line of defense. There are certain moments in history where one person's actions either save a country or damn it forever. Faced with the ultimate decision, how will history judge Colonel Mark Devane, his crew, and their last command?
Kevin Ikenberry's vision of high-stakes military drama and subsequent failure reaches a vibrant climax where courage clashes with despair.
Who is Kevin Ikenberry? He's a man who still wants to be an astronaut.  A retired Army officer, Kevin's background in space education and operations includes managing the world-renowned U.S. Space Camp program, leading two Challenger Learning Centers, and working for more than ten years in space operations.  He is the author of the science fiction/thriller Sleeper Protocol and the military science fiction novel Runs In The Family.  Kevin's short fiction has appeared all over the world in various publications and anthologies.  He lives in Colorado with his family.
Visit his website at www.kevinikenberry.com.
*********************************************************************************************
Click here for Magpies by J.D. Stone (a zip file containing the *.mobi, *.epub, and *.PDF)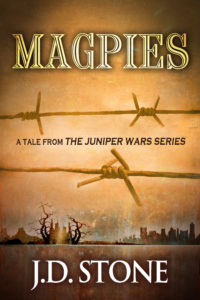 The Yellowstone Knockout of 2029 forced a flood of refugees to pour out of the western United States. They got out with their lives, but left behind a wealth of copper and other materials. Those willing to risk the lawless bandits and bleak desolation of the Juniper could stand to make a fortune, but for fifteen-year-old Tymonee Cuevas, her greatest adversary might be her own father.
Stone's high-stakes tale of family and desperation will leave you guessing until the very end.
As a kid, J.D. Stone carefully searched every wardrobe and rabbit hole and kept a weather eye out for fairies he could shake down for dust. Alas, he passed into adulthood without successfully crossing realms, save only in the daydreams that
never stopped. After years of denial, he finally agreed to record his fantasies for posterity. This is his first published story.
*********************************************************************************************
Click here for "Ezekial 37:23" by Mario Acevedo (a zip file containing the *.mobi, *.epub, and *.PDF)

Prophet Brother Othniel has given his followers an order: find women and find babies. Josheb, a hardened veteran and true believer, will discover a horrible secret that will break the bones of his world. Let the cleansing begin.
Mario Acevedo is the author of the bestselling Felix Gomez detective-vampire series, which includes Rescue From Planet Pleasure from WordFire Press. His debut novel, The Nymphos of Rocky Flats, was chosen by Barnes & Noble as one of the best Paranormal Fantasy Novels of the Decade and was a finalist for a Colorado Book Award. He contributed two stories for the award-winning horror anthology, Nightmares Unhinged, by Hex Publishers. His novel, Good Money Gone, co-authored with Richard Kilborn, won a best novel 2014 International Latino Book Award. Mario lives and writes in Denver, Colorado. Visit him at his website at http://www.marioacevedo.com/.
*********************************************************************************************
Click here for "Blood on the Snow" by Travis Heermann (a zip file containing the *.mobi, *.epub, and *.PDF)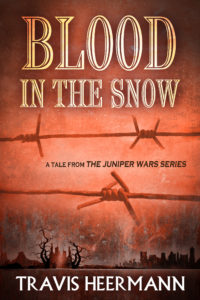 Ephraim Yates is a fine, upstanding village marshal in the Colorado Territory. He has a wife, a daughter, a life carved from the rugged hell of the Juniper…and a dark secret. When a mysterious woman rides into town, a vengeful ghost rising from the ashes of his past, her very presence threatens to drag his secret into the light. In the Juniper, vengeance is a meal of hard-tack and lead, served on an icy platter.
Freelance writer, novelist, award-winning screenwriter, editor, poker player, poet, biker, roustabout, Travis Heermann is a graduate of the Odyssey Writing Workshop and the author of The Ronin Trilogy, The Wild Boys, Rogues of the Black Fury, and co-author of Death Wind, plus short fiction pieces in anthologies and magazines such as Apex Magazine, Alembical, the Fiction River anthology series, Historical Lovecraft, and Cemetery Dance's Shivers VII. As a freelance writer, he has produced a metric ton of role-playing game work both in print and online, including the Firefly Roleplaying Game, Legend of Five Rings, d20 System, and the MMORPG, EVE Online.
He enjoys cycling, martial arts, torturing young minds with otherworldly ideas, and zombies. He has three long-cherished dreams: a produced screenplay, a NYT bestseller, and a seat in the World Series of Poker.
In 2016, he returned to the U.S. after living in New Zealand for a year with his family, toting more Middle Earth souvenirs and photos than is reasonable.
Visit in him at his website www.travisheermann.com.
*********************************************************************************************
Click here for "Guardian Angel" by Quincy J. Allen (a zip file containing the *.mobi, *.epub, and *.PDF)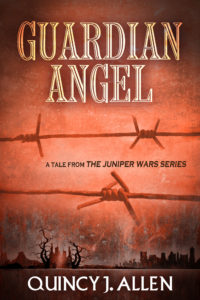 The Juniper is a harsh mistress, with the ability to bring out both the best and worst in the people who dwell there. Young Ritter and his friend Jeremiah are slaves of the Guardian Angels, a gang of women etching out their existence in the harsh environs of Northern Colorado. The life of a slave is one of toil and despair, all too frequently bringing one to the brink of self-destruction and beyond. In the face of even the worst abuses of the human spirit, some find hope. Others dwell in the dark and do their best to merely live through each atrocity. Others, however, seek other avenues to contend with their suffering, often looking to the face of God. In the midst of tyranny, sometimes all it can take to set the meek free is a single guardian angel.
Quincy J. Allen, a cross-genre author, has been published in multiple anthologies, magazines, and one omnibus. His first novel Chemical Burn was a finalist in the RMFW Colorado Gold Contest. He made his first pro-sale in 2014 with the story "Jimmy Krinklepot and the White Rebs of Hayberry," included in WordFire's A Fantastic Holiday Season: The Gift of Stories. He's written for the Internet show RadioSteam, and his first short story collection Out Through the Attic, came out in 2014 from 7DS Books. His latest novel Blood Ties, Book 1 in The Blood War Chronicles, is now available in Print and Digital editions on Amazon and digital format on Kobo, Barnes & Noble, iBooks, and Smashwords, and Book 2, Blood Curse, came out in June of 2016. Visit him at http://www.quincyjallen.com/
He runs a small marketing and printing business by day, does book design and eBook conversions by night. http://www.runewright.com/
*********************************************************************************************