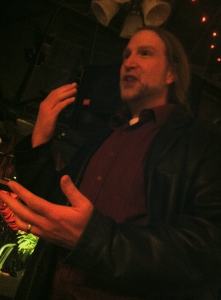 October 23, 2013: Homicidal Writers Killing Characters: Film at 11, blog post on Writers on the Peak.
October 2013: How Much Science Should Be In Science Fiction? A write-up of a panel Aaron was on at Mile Hi Con 2013.
10/13/12: My Three-Year-Old Angel Who Doesn't Believe in God, on the Night Owl Reads book blog.
9/24/12: The Book Tart Interview: Frappuccinos on the Virtual Couch.
8/15/12: My Angel Hates You; Counter-Cultural Themes in The Never Prayer, on Kary Rader's blog.

7/11/12: Trouble with Sagging Middles? There Are no Middles, Grasshopper, on Raven Bower's blog.
7/3/12: Guest posting on Literary Escapism: Doubting Aaron–Did I Write a Heavy-Hearted Romance?

6/29/12: Dude, you're old. You're a boy. What do you know about being a teenage girl? On Book Bite Reviews.

6/27/12: On Constance Phillips' blog, Aaron Ritchey Brings Songs for the Heartbreak of Angels to Character Playlist.
5/16/12: The Horror of the B+ and the Terror of the Pretty Good, on Scott J. Clemons blog.
5/14/12: Selling vs Sharing; The Truth About Being a Published Author. On Patricia Stoltey's blog
5/7/12: On Author Open Mic, on the Wicked Romance Blog, Aaron talks about hooking the reader.
5/7/12: On the hazards of having a big imagination, on Ciara Knight's blog.
4/14/12: 13 Things I Should Have Been Doing From Day One, on Savvy Authors.
3/28/12: Ignore the Midi-Chlorians and Embrace the Force, on Marissa Meyer's blog.
Bookmark Radio:
April 30th, 2012
Tune in to listen to an interview with Aaron Ritchey on Writing and his debut novel The Never Prayer.