Firstly!  Big news!  I'll be on the radio today at 4 p.m mountain time.  Yes, bookmark radio.  Click here and click some more to listen.  My voice is like fine wine.  It has been known to heal leppers.
Now, on to today's blog post about demons.
Last Tuesday, demons ate my homework. I gave a submission to my critique group and my critique group handed me back bloodstained, tortured sentences and weary, shell-shocked words. It was tragic.
And what I had submitted was the dark moment, one of the best, dramatic parts of the book, but what I brought didn't work. Insert sadface emoticon here.
There would have been a time when I would have let that crush me for days. What I had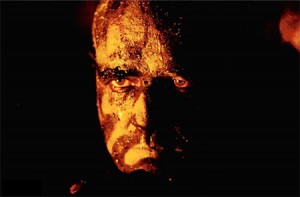 polished and brought wasn't good enough! The horror, the horror. (This is where I pour water over my bald pate like Kurtz in Apocalypse Now.)
But wait. That didn't happen. I mean, it did. I did travel to Laos and made myself a god there, but at the same time, I continued writing.
In fact, Wednesday morning I woke up, with ideas brimming, with enthusiasm, because my critique group tore the work down, but they also offered encouragement, hope, and ideas to make it better. Which is why my critique group is the best in the world. I feel so lucky to be in their ranks.
And I don't think they are going to kick me out, which is also nice. How I swung a critique group with such talented, published writers, I will never, ever know.
The happy, the happy.