For episode three of the Colorado Author Interview Circle, we sat down with the fantastic Travis Heermann, author of the Ronin Trilogy. Watch the video below, and don't forget to visit his website to find out more! (Oh, and like us on Facebook, too!)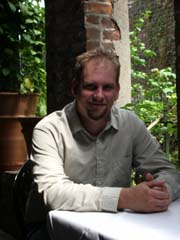 Travis Heermann has been a freelance writer since 1999. Publishing credits include dozens of magazine articles, role-playing game content for both table-top and online MMORPGs, short fiction.
In early 2012, he added Award-winning Screenwriter to his list of accomplishments. His screenplay Death Wind (as yet unproduced), written with Jim Pinto, was awarded first place in the Screenwriting Contest at the Cinequest Film Festival in San Jose, CA.
Nowadays, he writes full time. When he's not writing, he's probably playing a game of some sort, these days preferably Texas Hold 'Em, reading novels or history books, cooking, cycling, or exploring strange and wondrous places. His long-cherished dreams are: a NYT bestseller, a produced screenplay, and a seat in the World Series of Poker.