So Eytan Kollin was the first author to write a story in the world of The Juniper Wars Series.
I couldn't have asked for a better author to work with. He and I worked closely on edits and he was great at every stage. And very patient. You have no idea how patient.
I loved Eytan's characters. Mad/Sad Sally is a great character and you don't want to flip her off. And to throw in a con artist, her gay brother, and a bisexual First Nation sheriff was just brilliant. I am so proud of this story!
Here is a link to the BOOM TOWN story page.
Want more on Eytan?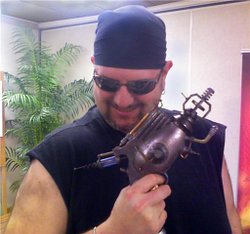 Eytan Kollin is a teacher of history, government and economics currently living in Los Angeles, California. His hobbies include historical reenactments, chess, and battle recreation with historical melee weapons. He is the co-author of the award-winning The Unincorporated Man trilogy and an anthology of short stories coming soon from WordFire Press. Eytan is currently working on his first solo novel, Benjamin Franklin: Wizard for Hire, coming soon from Baen Books.
Contact Eytan at eytan@theunincorporated.com or visit his website at www.theunincorporated.com.
Other Works by Eytan Kollin
The Unincorporated Man
A brilliant industrialist named Justin Cord awakes from a 300-year cryonic suspension into a world that has accepted an extreme form of market capitalism. It's a world in which humans themselves have become incorporated and most people no longer own a majority of themselves. Justin Cord is now the last free man in the human race – owned by no one and owning no one. 
Praise for The Unincorporated Man
"Fans of SF as a vehicle of ideas will devour this intriguing debut."
―Publisher's Weekly
"The Kollin brothers' first novel, chosen as a Sci Fi Essential Book, recalls the emphasis on freedom of the early works of Heinlein and the cutting-edge social commentary of William Gibson and Fritz Lieber."
―Library Journal
"The Kollin brothers' debut captivates with unforgettable characters and an ingenious vision of the economic future."
―Booklist Magazine
Praise for The Unincorporated War
"Appealing characters, ruthless villains, and speed-of-light pacing make this a good choice for fans of battle-oriented sf and heroic space adventure in the tradition of Robert Heinlein and David Weber."
―Library Journal
"The Kollins' masterful command of multiple plot threads, characters, and the motifs of grand-scale space opera make for a breathtaking sequel. One more book will complete a trilogy."
―Booklist
 Praise for The Unincorporated Woman
"Rich with multiple plot threads skillfully handled by the authors, The Unincorporated Woman returns readers to the revolution started by Justin Cord. Well-conceived characters along with intense, battle-oriented space content will keep even new readers glued to the page."
―RT Book Reviews