I'm honored to help out fellow Crescent Moon Press author, Toni de Palma, on her whirlwind blog tour promoting her new book.  It's about to get real up in here.  We talk nuns.
Aaron: First off, how deep is your New York accent?  If I was from the Phillipines, would I need a Brooklyn to English dictionary to understand you?
Toni: Ha ha! It's at its worst when I get tired. I tend to say whawta (for water) and cawwfee (for coffee).
A: I won't get all religious, though I want to.  Lord, I want to.  Yes or no, were you Catholic?  If yes, did you know any nuns?  If no, did you grow up with any kind of religious denomination or would you prefer not to say?  Don't worry, I won't ask your weight, income, or if you voted for Obama.  I'm done.
T: I was raised Catholic and went to Catholic school for six years. During that time, I only had one nun for a teacher (my first grade teacher). Here's the funny thing. When I was in third grade, I saw my old first grade teacher. She wasn't a nun anymore and was pushing a baby stroller. These days, I don't really identify with any particular organized religion, but I am deeply spiritual. My new religion is kindness and compassion.
A: If you had to pitch The Devil's Temptation to a crotchety, foul-mouthed nun drinking tequila, how would you pitch it?  And yes, I'm Catholic and I've known foul-mouthed nuns.
T: Ha! I don't think I'd need to pitch my book to her. I'd be more interested in sitting with her, having a drink, and hearing her story.
A: So The Devil's Temptation is book two in the Devil's series.  Okay, ready for the lightning round?  Do you need to read book one to understand book two?
T: No, you don't have to read the first, but it's more fun that way.

A: Did you map out both books or did you write them by the seat of your pants?  T: I'm definitely a seat of my pants kind of girl. When I buy something, I immediately throw the instructions away and figure it out on my own. There are always a few extra screws left, but it always works out in the end.
A: Did you want to go back and tweak book one after you wrote book two?
T: I didn't.
A: If someone made them into movies, are the books similar enough you could use the same director, or would you want different directors?  Who would direct?
T: My son is a director. I'd hire him to keep it in the family. I do like David Fincher, though.
A: What was the funnest part of writing The Devil's Temptation?  Not the most fun part, the funnest part?
T: DT is set in part in Ischia, the island where my dad is from and where I spent many summers. So the funnest part was going back to Ischia – at least in my imagination.
A: Is your portrayal of the Devil like Willem Dafoe in the Mercedes-Benz advertisement, Robert DeNiro in Angel Heart, or Elizabeth Hurley in Bedazzled (2000)?
T: My devil is a force that I want the reader to imagine. The devil's sister, Lucinda, is definitely a tease like Liz Hurley.
A: Were you more devil or angel in high school?
T: Definitely an angel. Boy, what I'd do for a do-over.
A: How many books will there be in the Devil series?  How much kissing?
T: All yet to be seen (remember I don't plan).
A: Most importantly, how do you play the game skully (or skelly)?  From the website, your bio.  I wanna know!
T: I actually taught my son and his friends how to play a few years ago. We melted crayons into our bottle tops and marked out the board in the street. I whooped them good!
A: Explain evil in the world.  I'll give you thirty seconds.  I mean, a lot of us are curious about this whole evil thing we see around us.
T: Evil, for me, is about the choices we make everyday. In any given moment, we get to choose who we want to be and how we want to react. I think if we were more compassionate and kind to one another there would be a lot less "evil" in the world.
Toni!  Aw, thanks so much for answering my quirky questions.  Yes, kindness and compassion, and you did explain evil in the world in less than thirty seconds.  Yer awesome.  And David Fincher would totally direct, but he's working on my project.  It's going down Fight Club style.  Actually, in one of my blurbs for my next book, I was compared to Chuck Palahniuk.  Small world.
Best of luck on the book!  Check her and my fellow Crescent Moon Press partners out.
The Devil's Temptation by Toni De Palma
Published by: Crescent Moon Press
Release Date: March 14, 2014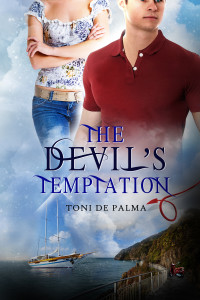 Fighting the Devil brought Cooper and Grace together. But without a little evil to spice things up, the everyday life of a normal teenager is pretty dull. A summer job crewing on a billionaire's yacht in sunny Italy might be just the ticket to rekindle passion. While the setting is perfect, the winding, sinister back streets of Naples are also the perfect playground for a scorned Lucifer to wreak havoc. And if evil doesn't rip them apart, the sultry billionaire's daughter and the sexy First Officer might be what it takes to finally destroy Cooper and Grace's love forever.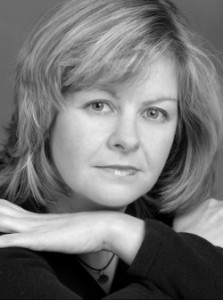 About Toni: Toni De Palma was born in Brooklyn, New York. As a child she spent many summers in Ischia, the Italian island where her father was brought up. Her first middle grade novel, Under the Banyan Tree, was published in 2007 and selected as a Kirkus New Voices Pick and a New York Public Library Book for the Teen Age. Her second middle grade novel, Jeremy Owl, was published in 2010. Her third book, The Devil's Triangle, A YA paranormal is getting rave reviews. Toni holds her MFA in Writing for Children and Young Adults from Vermont College and she is a recipient of a New Jersey Arts Fellowship. She currently resides in New Jersey. Find her on Facebook, Twitter, and GoodReads.