Okay, this is the thing, Wendy S. Russo is a fellow Crescent Moon Press writer, but she burst onto the scene in a torrent of activity. We're talking Wizard of Oz tornado. Suddenly I was seeing Wendy Russo's name everywhere. It's kind of like what happened with the Richard Dreyfuss character in Close Encounters of the Third Kind. Suddenly, at the kitchen table, I was making mashed potato sculptures of Wendy Russo. Weird.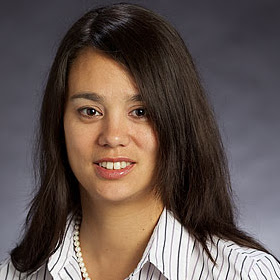 Wendy got her start writing in the sixth grade. That story involved a talisman with crystals that had to be found and assembled before bad things happened, and dialog that read like classroom roll call. Since then, she's majored in journalism (for one semester), published poetry, taken a course on short novels, and watched most everything ever filmed by Quentin Tarantino. A Wyoming native transplanted in Baton Rouge, Wendy works for Louisiana State University as an IT analyst. She's a wife, a mom, a Tiger, a Who Dat, and she falls asleep on her couch at 8:30 on weeknights.
So in January, Wendy's book, January Black, launched and smacked the world with its pages. Smack. I asked if she would do one of my funky fresh interviews and she agreed. But first, a little more about January Black.
Sixteen-year-old genius Matty Ducayn has never fit in on The Hill, an ordered place seriously lacking a sense of humor. After his school's headmaster expels him for a small act of mischief, Matty's future looks grim until King Hadrian comes to his rescue with a challenge: answer a question for a master's diploma.
More than a second chance, this means freedom. Masters can choose where they work, a rarity among Regents, and the question is simple.
What was January Black?
It's a ship. Everyone knows that. Hadrian rejects that answer, though, and Matty becomes compelled by curiosity and pride to solve the puzzle. When his search for an answer turns up long-buried state secrets, Matty's journey becomes a collision course with a deadly royal decree. He's been set up to fail, which forces him to choose. Run for his life with the challenge lost…or call the king's bluff.
So, without further ado, LET'S DO THIS THING!
AARON: Okay, Wendy, you are ubiquitous. I see you online, on the CMP loop, everywhere. What is your secret? Do you have little gremlin-type creatures handling your social media?
Wendy: I wish. I feel like my life has been shot out of a confetti bomb. But, I have been Apple'd up…iPhone, iPad…. WordPress lets me schedule posts in advance. Apparently being the CMP Triberr chief means I can't be kicked out of that tribe, so my posts are still being Tweeted by the few people Triberr liked enough to allow to say. To everyone else, I apologize. I promise I'll sort that out soon. I'm off topic. I hope to be more ubiquitous in 2013. Maybe even obnoxious. Maybe I'll even open up my calendar app and schedule reminders.
AARON: I was immediately digging on the cover of January Black. Where were you when you first saw your cover and what was your initial reaction?
Wendy: I was on Long Island, at my sister-in-law's friend's house. The woman is a hair stylist and she works out of her home. Anyhow, I was waiting for my turn when the email from Steph came in. Coincidentally, the stylist's name is also Steph. I'll admit that it took about a few seconds to grow on me. When you wait months and months to see something, you think about what it *might* look like, and the cover is a different direction than I thought the artist might go. Then I started seeing stars and realized I was holding my breath. I fell in love with the color and the little bird on the gate, and…yeah, I'm so glad I left it in Taria's hands. It's beautiful.
AARON: Oh, I just thought of a cool question. No, really. It might be the only one, so here goes. Your title is interesting, January Black. How does that support the overall theme of your book? Or if it doesn't, skip this question. Or just talk about the theme of your book. Or bunnies. We can talk about bunnies. Everyone likes bunnies.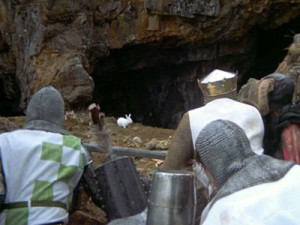 Wendy: I'm particularly fond of bunnies with large teeth that inspire such fear in English knights that they will lob holy hand grenades in their general direction. Just kidding. January Black is the puzzle that Matty Ducayn must solve. Talking about it inevitably results in spoilers.
AARON: So January Black came out of what you call your own personal junkyard, The Lords of Papiyon. What do you mean by personal junkyard? And how do you come up with such cool titles? I have title envy.
Wendy: Thank you. I love titles. Okay…[cracks knuckles]…First of all, yes. Papiyon is spelled wrong. That's intentional. I wrote a two-volume epic fantasy in 1999 called Circle of the Butterfly. Afterward, I decided that there were huge theme and structural issues with it, so I started writing a new story for the characters of that book built around a more deliberate skeleton, with more purpose. At the same time, I watched the movie "Papillon" with a roommate. Papillon is French for butterfly. I liked the sound of the word and named my epic rewrite "The Lords of Papiyon," because it featured four characters with claim to the title. As for how it came to be my personal junk yard, ask me about egg whites.
AARON: You described how working on one of your projects was like whipping egg whites. What did you mean by that?
Wendy: When you whip egg whites for meringue, there is a point where you get just what you want. A fluffy cloud with stiff peaks. And if you don't stop, the proteins in that beautiful substance seizes up and you get a mass of yuck floating in water. When you are a plotter, you can do the same thing with your writing. You can work it until, as a whole, you've just got a mess. And that's what happened with Papiyon.
I've got 60-plus-thousand words of beautiful scenes, characters, and world-building, and it became apparent that it's all groundwork for something massive. Like Neal Stephenson's System of the World massive. It would require years of research in politics, physics, history, organized crime families, waste management systems…all things that interest me but that I am not committed to studying just to untangle the mess I've created.
So, back to the junk yard…I walk through it every once in a while. I pick out details…bits of dialog, a tradition I was laying in. January Black actually came out of one of Papiyon's scenes…a boy standing in an overgrown garden.
AARON: So you're living in the south, but you grew up in small town Wyoming. As a writer, what are the benefits of growing up in such a place? And what are the benefits of now living in Louisiana?
Wendy: Wide open spaces provide an unstructured opportunity for creativity. Worland, like many towns across the US, doesn't have a lot of things for kids to do.
We had to make our own fun. Some of that fun was trouble, but most was constructive. I spent a lot of time in libraries and public parks. You don't notice at the time, but when you're older and living somewhere else, you remember the way the air smelled back home. You remember the way the clouds appeared on the horizon, and the feeling of the breeze on that first warm day in spring. In the north, you know snow is coming by the smell in the air. These are world-building things.
Living in the south, I have warmer weather year around, which is a huge plus for me. I have the Atchafalaya basin nearby, and New Orleans, and awesome food. I'm exposed to a much more diverse population of people, different accents and different backgrounds. The skies are different day and night from home and the weather patterns are different. My family also takes roadtrips. There's a wealth of details for fiction world-building all around us if you can take it all in and remember.
AARON: So when we talked, I asked if you were a morning writer or evening writer. You said you write when you find the time. So how do you get into the mood? Any writer rituals?  Candles?  Incense? Chocolate busts that look like Dean Winchester from Supernatural?
Don't talk about my chocolate Dean! If Rebecca Hamilton hears about it, she'll come and fight me for it. Seriously though, I don't have any writing rituals—or a chocolate Dean—which strikes me as odd. The rituals, I mean. Not Dean. I may have to create a few. Again, I mean rituals.
AARON: You said when you were working on January Black, you were listening to a lot of Dream Theater and Taylor Swift. I love Taylor Swift! Which characters are Dream Theater-y, and which characters are more Taylor Swift-y?
Wendy: The plot was inspired by Dream Theater's "Rite of Passage." It's a song about Freemasonry on their Black Clouds and Silver Linings album. So, I guess that's Matty's song. His girlfriend, Iris, is Taylor Swifty…all the way down to the curly blond hair and awkward cuteness.
AARON: If you could bring one of your characters to life, which character would it be and why? And would he/she enjoy reality?
Wendy: King Hadrian. He's so much fun. And he would enjoy reality immensely.
AARON: Thanks so much for agreeing to chat!
Wendy: Thank you for having me on your blog. This was fun.
AARON: Here is where you scatter your links like breadcrumbs…
Find out more about Wendy and buy her book!
Blog
Facebook
Twitter
G+
Goodreads
Amazon
January Black
Kindle
Amazon
Barnes and Noble
Goodreads