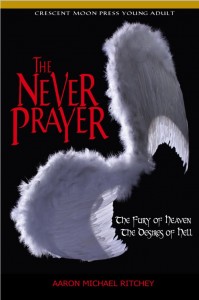 In my book, The Never Prayer–no really, I wrote a book. No, seriously. Why are you laughing?
I'm going to keep on, while you titter, you titterer you.  In my book, my heroine's three-year-old brother finds feathers, all the time, and says, "Angels are in heaven, but the God Birdies are all around us." I wanted to make a distinction between the mythology of angels, Michael, Ariel, beyond, living with the Christian God, and the God Birdies, who are always around us, spirits, on the other side of things, pushing for good.
This all came from a friend of mine who, whenever she sees a feather, believes that it is God's way of making contact with her.
That feathers are like the feathers of angels.
At first, I was cynical. My logical mind thought, "Well, that's stupid. Some pigeon gets eaten by a hawk, and she thinks God is watching over her. Yeah, maybe God is watching over her, but what about that frakkin' pigeon?"
But then, I started finding feathers, just around, you know, the detritus of the world, and I
realized what a nice idea that is. But then, that is the secret of the mythological part of who we are, the spiritual, the divine, the Sacred Heart of Jesus, if you wanna get downright Catholic about it.
You can find meaning and symbols all around, as long as you look, as long as you are aware. It is so easy, though, to keep our heads buried in the sand, or to turn robotic about the world. The rainbow doesn't mean anything, just light through water. That squirrel who lives on my porch is just a rodent feeding off the rotting meat of my BBQ. A+B=C.
And yet. The world is a mystical place, if you have the right mindset. For example, when I was thirteen, I wanted proof that God existed. And so, I asked for proof. Right now. I wanted a burning bush. Lightning. Fear and trembling. I am the Lord, thy God, thou shalt not have any strange gods before me!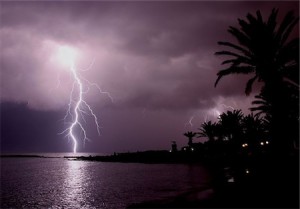 Nothing happened. Until the next day, when a white kitten showed up and camped out in our back porch. For days and days. And I pet it. And fed it. And it was a sign from God. My heart was moved. And then the kitten left us forever.
Of course, it was acoincidence. A stray. Please, let's not get hysterical. And yet, what are the odds? I was looking for God and found something.  In my experience, if you look for God, you'll find God. If you don't, you won't. It's all up to you.
And so, are the feathers we find angels watching over us? Why not?
I lie to myself about reality all the time. Might as well lie to myself that the world is good, and that something is watching over me. Might as well. It is JUST as valid as the alternative. That I am alone, the world hates me, heaven is empty, and I'll die alone and stay dead, rotting into the dirt.
Might as well believe in Heaven. And angels. And goodness in the world. Believing such things has never harmed me personally. And I got to pet a kitten out of the deal.
A lovely white kitten. An angel.