For the first in the Colorado Author Interview Circle series, we talked to Warren Hammond! Watch the interview, and get more info on Warren and his new book, Tides of Maritinia, below!
Warren grew up in the Hudson River Valley of New York State. Upon obtaining his teaching degree from the University at Albany, he moved to Colorado, and settled in Denver where he can often be found typing away at one of the local coffee shops.
Warren is known for his gritty, futuristic KOP series. By taking the best of classic detective noir, and reinventing it on a destitute colony world, Warren has created these uniquely dark tales of murder, corruption and redemption. KOP Killer won the 2012 Colorado Book Award for best mystery.
Warren's latest novel, Tides of Maritinia, released in December of 2014. His first book independent of the KOP series, Tides is a spy novel set in a science fictional world.
Always eager to see new places, Warren has traveled extensively. Whether it's wildlife viewing in exotic locales like Botswana and the Galapagos Islands, or trekking in the Himalayas, he's always up for a new adventure.
Tides of Maritinia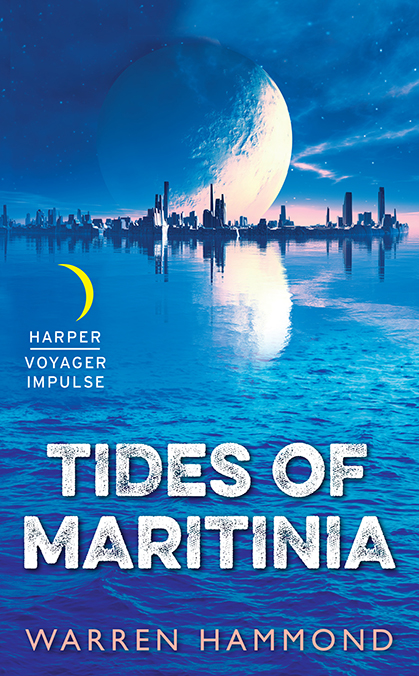 The people of Maritinia believe the Empire will not care that they've broken free. But the Empire is built on the belief that if an insignificant planet can revolt, then other, more important planets might follow suit.
So the Empire sends an agent to Maritinia with a mission: assassinate and replace one of the conspirators, and do enough to sow discord that when the soldiers do land, any opposition will be quickly crushed.
Thus Jakob finds himself immersed in the inner circle of the madman who led the rebellion. A raw recruit with only his political officer—a separate consciousness inserted into his brain—to speak with, Jakob is out of his element as an operative. And while he falls deeper into the conspiracy, he begins to question everything: the despotic admiral in charge of the coup, his feelings for a native woman, and—most troublingly—whether he still agrees with the will of the Sire.