Hello all you happy people,
Well, I would've posted this last night but I chatted in the parking lot with Jennifer, Shannon Lawrence and John K Patterson.  I love talking in parking lots in the cold.  No, really.  You see, if we had gone to a restaurant, I probably would have bowed out since I needed to drive home.  But in the parking lot, well, I was always about to leave.  You know how I am.
So I got home about midnight, slept a bit, and here I am.
Thanks to all the PPW and Colorado Springs people for making it such a great night.
Attached are my power point slides!  Resolved to Write -The Body and Soul of Writing 2013-01-15  Click the blue!
Here's the gorgeous audience!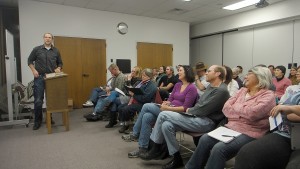 And thanks to the gorgeous Ellis for masterminding the event!  I wouldn't have been there if not for her.
My next event is at the Southglenn Library for Zenith Writers, February 6, 2013.  I'll be talking about first chapter, first page, first paragraph, first sentence.  Hook me!