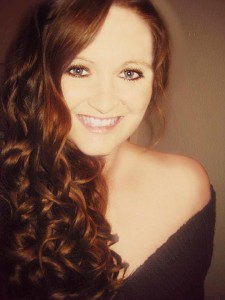 Books, readers, writers, bloggers, these are a few of my favorite things. I first met Khelsey when she agreed to read my book, The Never Prayer, and I invaded her blog like a Visigoth on tequila. Go here for that bit of Visigothery. Actually, a bit of trivia: The Never Prayer was the last book Khelsey reviewed before taking a hiatus to focus on writing novels of her own. Her debut novel, Kallos, just hit the shelves this past January. Cool title, huh?
A little about Khelsey.
Khelsey hails from the Sunshine State (California) but moved to Minnesota when she was 11 years old. Her grandmother raised her and her brother. When she was 18 she did what any sane teen would do and moved to the city of sin, Las Vegas NV. There she met her handsome husband and the rest is history. She loves to read, and will read almost anything. I guess when you have read just about everything, the only next logical step is to write.


A little about Kallos.
Kallos is a shy sixteen-year-old girl unready to face the world, but when she meets Ian and Sean Hunter the world will open up for her. Secrets revealed are too much to bear and her past life as a goddess, unimaginable. On a visit from the goddess Aphrodite, Kallos is told her soulmate must be found or her life will be forfeit. Kallos, desperate to find her one true match, has discovered she may have two possibilities. Kallos has a choice to make and her decisions may have life-ending consequences.
A little about the interview? Nothing little about this interview! We started off big by talking about Barbie movies! Keeping it real and keeping it street, yo.
AARON: Okay, my favorite Barbie movie for songs is The Princess and the Pauper. For story, Barbie's Rapunzel. I know everyone wants to know, what is your favorite Barbie movie? And why?
Khelsey: I would have to say Diamond Castle, because I love all of the songs and know all of the words.

AARON: So we both watch Barbie movies 'cause we have daughters. Being a parent and being a writer is rough. So you write at night. How do you get yourself to go to bed? Or do you not sleep?
Khelsey: I usually write at night when my husband is home, and I don't sleep much! I live off of coffee and chocolate.

AARON: Everyone likes rejection stories. Give us a bad rejection story. Don't name names, though. It's a small industry.
Khelsey: I sent Kallos to ten publishers, I didn't know that the Big 5 would want me to have an agent. But I sent to them, I opened an email and it said, "I love the idea but don't like the voice telling the story." I was confused so I asked my husband to read it and he told me that they love the idea of Kallos but hated me as the author.

AARON: Okay, big question, Twilight yes, or Twilight no? Argue for or against. Be very, very convincing. Everything is riding on the answer to this question.
Khelsey: I LOVE Twilight; both the movies and the books. Now the first movie I don't like, it makes me mad to watch it. Lol. I know people make fun of the sparkling vampire but I look past that and to the story. If you read the books you fall in love with Edward and Bella. In the books you know that it will always be Edward in Bella's heart; there is no question about Jacob.

AARON: So you changed your book from first person to third person P.O.V. What lessons do you have for other writers challenged to do the same?
Khelsey: Wow I have learned that third person is a lot easier to write! There are so many rules you have to follow when you write in first and in third you can add more sides to the story. I've learned to take your time when editing no matter if you had it edited by the best. 

AARON: So this blew me away. You battled English in high school. Why did you not like English?
Khelsey: I loved school, mainly History, but English was my worst class. I almost failed ninth-grade English, and if it wasn't for my teacher, Mr. Vieths, I would have. He helped me any chance he had.

AARON: Tell us about your English teacher? How did it come about that your English teacher eventually helped edit your book?
Khelsey: Mr. Vieths was amazing and still is. I posted on Facebook about a year ago saying I wrote my first book. He messaged me asking if I wanted help with editing since he was starting an editing business. I told him heck yes and he started to help me.

AARON: Talk a little about the soundtrack of Kallos. What songs inspired the plot? Which songs inspired the characters?
Khelsey: Now I love music but with Kallos I listened to Gavin Degraw. He inspired me and I love him. If I would have to choose one song it would be Soldier.



AARON: When we talked, you said you have had technology issues with your laptops. If you could have a laptop that could do anything as far as writing is concerned, what magical capabilities would you want your magical laptop to have? How would that tie into the writing of Kallos?
Khelsey: I would want one that saved every time I hit the spacebar! Lol. I lost about 30 pages in Kallos because my laptop turned off (it overheated). I cried and didn't write in Kallos again for a week.

AARON: Thanks, Khelsey! This is where you put any links you want. Link us all up in chains of beauty and grace.
Khelsey on Facebook
Twitter
Website
Goodreads
Email-khelseyrjackson@gmail.com