As promised, my Cambo and the Life blog post. Free music on their website. 'Cause that's how they roll.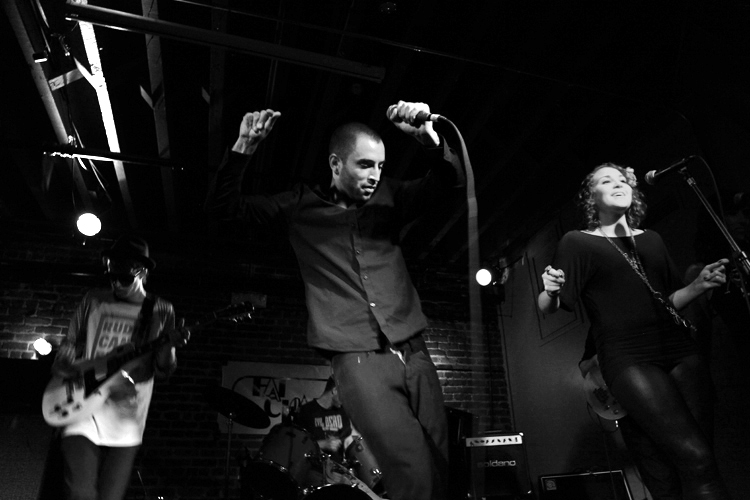 So, this is what I do when I'm in the Bay Area.  I listen to KFJC, Your Source For Sound, 89.7 FM, and I go to their website, and yeah, a junior college radio station, playing everything, anything, all things.  From the soundtrack of the Andy Griffith Show, to Jello Biafra's spoken word, to industry machinery, to babies screaming, dubbed over with Peggy Lee, to death metal Satan listens to when he drops a dookie in hell.  And yes, even the 1960's cool Johnny Quest soundtrack theme.
Yeah, love KFJC.
Back in December, 2010, I was in the Bay Area, or was it March?  I can never remember.  The life gets crazy.
But I grabbed some friends, picked Cambo for some reason unknowable, and we went to see 'em.  In my other post, I talked a little about meeting Cambo in the lobby, but I didn't really know him until he hit the stage.  And of course, that ain't Cambo, but a stage persona, a mask of attitude and fury.
I did notice that the crowd was older.  I guess I'm a little sensitive about my age going to
see live music.  I'm, um, not what I use to be.  I grow old…I grow old, I shall wear the bottoms of my trousers rolled.  I talked to people, and a lot of people in the crowd were parents of the musicians!  It was like my daughter's piano recitals with more drugs and more booze.  Which, to tell a dirty little secret, is how many parents get through the piano recitals.  Not me.  High on life, baby.
So, it was exactly like my daughter's piano recital.
But the music was so good.  So charged.  And I met Cambo's mom, and her friend, and his brother.  And I shook all their hands.  If you go to see huge, massive bands in stadiums, you're generally not going to meet the family of the talent and get to shake their hands.  Ah, I love the local music scene.  It's the only way to go.
I left feeling good.  Feeling hopeful.  I got to see a talent doing what they love and were born to do.  What a wonder this world is.  What a fabulous wonder.
Now, like with publishing and any artistic endeavors, the music industry is fraught with dangers to the body, mind, and soul.  Money kills people.  Drugs.  Doubt.  Fear.  Tequila.  Fame is rat poison that tastes like pixie dust.
But I wish Cambo the best.  In my next life, I'll be a musician.  Writing generally doesn't involve late night parties that end with a greasy breakfast and mimosa's.  I get decaf coffee, and I don't sleep much.  Yeah, I don't know about you, but my social life is nutz.
Now, Cambo's lyrics are not kid friendly.  It's raw, baby.  It's not about a salary; it's all about reality.
I would start with Crazy Things and go from there.  It's dangerously funky, yo.  And if you can at all go and see a Cambo and the Life show, you will not be disappointed.