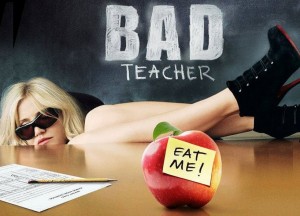 BAD TEACHER – This is what I want.  I want to take the Cameron Diaz character out of this movie and put her in a movie written by Adam Sandler and his buddy.  The first four Adam Sandler movies, Billy Madison through Big Daddy, were brilliant because they told a story.  Yeah, the story was cliche, stupid, predictable, stupid and stupid, but there was a story there, with a nice predictable character arc.  And yet, the ride along that patch of road was so alien and over the top, it was awesome!  Like going down Kipling for the ten thousandth time with a meth-outed Barnum and Bailey's clown, a monkey, and Oliver Pratt doing lines of coke off a stripper's taut belly.  Bad Teacher has the coke, the taut stripper belly, Justin Timberlake being all cute and wonderful and funny and daring and risky, and Jason Segel being as cuddly and smarmy as a teddy bear in a teddy, but it doesn't have a story or character arc.  Which is a shame.  Because the movie could have been so much more awesome.  However, what Cameron Diaz did with her body and a desk is worth a watch.  And I don't mean that in a sexual way, you dirty-minded people.  Dirty, dirty I say.
THE GREEN LANTERN – Love that Ryan Reynolds.  Love the hot chick who had to play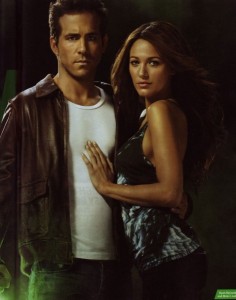 the typical disgruntled hot chick.  Love the fact that the movie is not good versus evil, but really will versus fear.  How cool is that?  I never read the comic book, and I always thought Green Lantern was kind of silly.  Green ring that creates green things.  Yeah, whatever.  But you tell me the green energy is will and the yellow energy is fear, well, you have my attention.  No, seriously.  I am sitting up straight in my seat.  And the visuals in this movie.  I wish I had seen it at a theater.  Some great stuff.  And you have the huge tentacled monster, huge and huger, getting bigger, huge, sprawling.  It had that two-page, jaw-dropping quality.  Everything else, pretty typical, but hey, it worked for me.  And Tim Robbins, always good to see Tim Robbins.  "I wanna spank your bald head and lick it."  Yeah, Tim Robbins, class act.  Is he still married to Susan Sarandon?  I hope so.
CAPTAIN AMERICA – Right away, you love the little guy who wants to fight Nazis, who won't stay down after bully kicks the hell out of him, who just has this vast amount of heart.  And you love Tommy Lee Jones.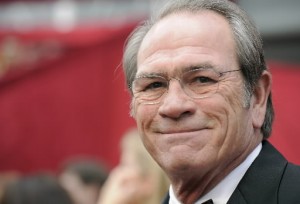 And you love Stanley Tucci.  And you just love this movie.  And boom, Hugo Weaving looking like what Roger Ebert says, a guy with a face made from that fake red Chinese food duck meat.  Hugo Weaving.  Cool.  And who doesn't like to kill Nazis?  Not this red-blooded American hombre.  And the path to superhero wasn't through his own pluckiness, but through political marketing and American propaganda.  No, this movie was probably the superhero movie to see from the Summer of 2011, and yet, in the end, oh don't hate me, it fell down at the climax.  With a movie like this, you need a huge, end of the world, blow 'em out of the water, kill me now, shoot me later, type of ending.  A climax that leaves you breathless. Didn't quite do it.  Kind of petered out.  Though I did get a little teary-eyed when Cap is talking to his girl and he's sacrificing himself and it was sweet.  Though you could have had that and had the big, blowing-stuff-up type of ending.  Ah well, not all movies can be as perfect as GI Joe: The Rise of Cobra.  Kidding.  Not really.
HORRIBLE BOSSES – First of all, Jason Bateman is aging into perfection. He's like cheese.  He's like wine.  He's like vintage porn.  And I had to read the ending credits twice.  Er, the IMDB post.  Sorry.  Colin Farrell played one of the horrible bosses.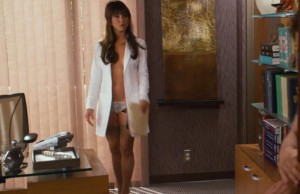 Impressive.  But then, he probably knows his way around a coke spoon and trashy women.  Open.  This end up.  And Kevin Spacey, who can play snide and evil as well as anyone, and Jennifer Aniston's daring, over-the-top, risky, fully committed hoooooarrrrr was inspired, and Jamie Foxx, what he did with that drink and straw, academy-frakkin-award.  No, seriously.  This movie wrote itself.  Three guys wanna kill their horrible bosses and they are all justified.  Yeah, duh.  Pitch me, baby, 'cause you don't need to pinch me.  However, yeah, no movie is ever perfect, except GI Joe: The Rise of Cobra.  Kidding.  Not really.  I wanted Horrible Bosses to be smarter.  I wanted cleverness, and they flirted with cleverness, but it never really got me there.  In the end, I was satisfied, I'd give it a thumbs up, but again, I want more, always more, give me more.  Give me twists and clever.  The cell phone was flirting with clever, but they needed to add Jennifer Aniston into the cell phone\assassination thing.  Then I would have been happier, and if Aaron ain't happy, nobody is happy.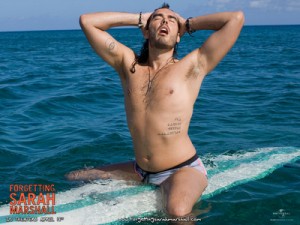 GET HIM TO THE GREEK – There have been a lot of comedies out lately that are all trying to be as great as Get Him to the Greek and they fail, and do you know why?  Movies like Hot Tub Time Machine, and others, fail because they, oopsies, forget about story.  And character.  And tragedy.  Comedy is just tragedy with more fart jokes.  Get Him to the Greek is a revelation because it shows this grand, epic, tragic character and we follow him through his nightmare and it's hilarious.  The writing is smart, reaching beyond the words, to be smarter.  Really, dang smart and funny.  Jonah Hill.  The fat guy Everyman, and his girlfriend, Daphne, the chick from Mad Men, and let me tell you, the actor who plays Aldous Snow is done.  You can layer make-up on that guy and put him in front of a green screen and give him a Swedish accent, dubbed, and still, I would only see Aldous Snow.  It's a Colombo type of character.  A House type of character.  Like Jim from Taxi. The end.  And Sean Combs, Academy Award for this guy, as the evil music industry executive who is completely insane.  Not since The Hangover have I been so impressed with a story that swept me along and left me laughing my butt cheeks off.  I had to vacuum them up.  And don't worry, we have a happy ending.  And Lars Ulrich?  Are you kidding me?  Loved his cameo.  Best movie I've seen since I started watching movies again.  Can't recommend this enough.
DODGEBALL – Ben Stiller zapping his nipples with a car battery while toying with a donut.  Ah, yes.  This is the Adam Sandler school of comedy.  Stupid, cliche story, done well, with a wild cast of dodgeballers.  And Ben Stiller.  And his hot wife who may or may
not be a lesbian.  And Rip Torn.  Whenever Rip Torn is in a movie, I just wanna buy the movie because I love Rip Torn.  He was in The Beastmaster, don't you know.  And you know, when I watched the movie, I was put off by Vince Vaughn's character because he really didn't care one way or another.  But the Apple commercial guy was so ardent, that Vince Vaughn could be so blithe.  This one is a classic, or can we have classics any more?  We have so many damn movies, it's hard to say.  Notice on the chest, it says DEUS EX MACHINA on it at the end.  Nothing new in this movie, except the way it takes a cliche and kicks it squarely in the testes.  Hurray.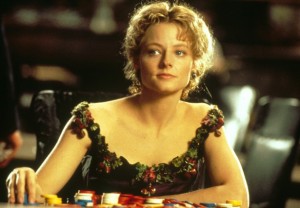 MAVERICK – It's a western.  It's fun.  It's not dark.  Mel Gibson smiles so much, and is so nice, you can forget about his later-years meltdown.  Poor Mel.  Never be too handsome and never be too rich.  It kills your soul no matter how many Jesus movies you make.  And then James Garner strolls on as Zane Cooper, Coop to his friends.  Love James Garner.  And James Coburn.  Two veterans, cowboy weary, and Graham Greene as the ironic Indian and a funny Richard Donner cameo for Danny Glover.  Ah, the 90s.  When I could watch as many movies as I could stomach.  Strong story, strong characters, though no real character arcs, but that's okay because William Goldman is too good of a writer, you can forget about little things like that.  I would say, Jodie Foster did well, but I don't know, you'll hate me, I know, but her dramatic work really blocked me.  And her personal life stuff.  And the icon that is Jodie Foster.  I had a hard time with her doing comedy and doing the role.  Stupid of me.  This is why it's best to ignore everything about an actor except their work.  It can get in the way.  I would have liked to see Holly Hunter in that role, but then, I'd like every movie to have Holly Hunter in it.  No, really.  Every single movie.  Including, G.I. Joe: The Rise of Cobra.